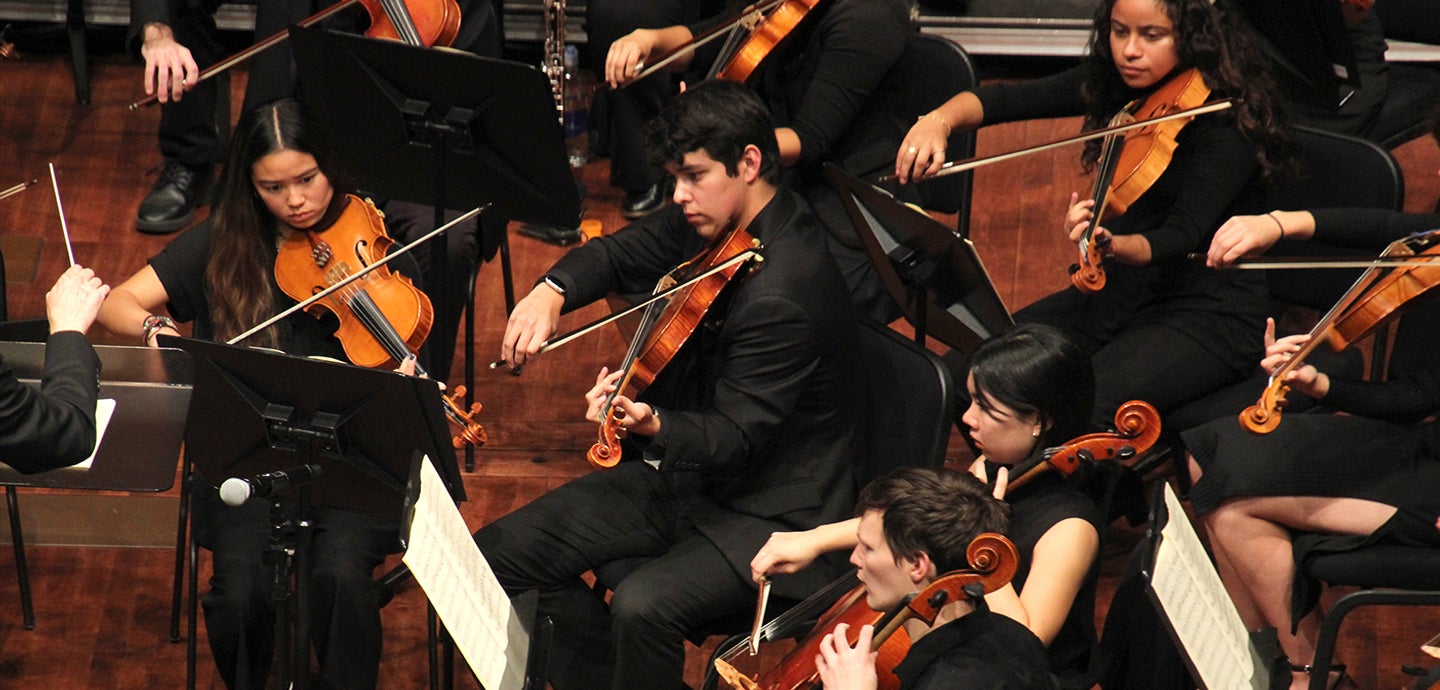 Cal Poly Symphony Fall Concert
With the Magnet Academy Symphony Orchestra
Date

Dec

3

, 2023

Event Starts

3:00 PM

Location

Harold Miossi Hall

Doors Open

1 hour prior
The Harmony Magnet Academy Symphony Orchestra (HMASO) will join the Cal Poly Symphony for their Fall Concert.
Harmony Magnet Academy, located in Strathmore, California, offers students a rigorous curriculum with a program of study in either the Academy of Engineering or the Academy of Performing Arts. It was recently named one of the top 5% of high schools in the nation by U.S. News and World Report, and the top high school in Tulare County.
The concert will begin with selections played by the HMASO, including Aaron Copland's "Fanfare for the Common Man," arranged by Robert Longfield; and Ludwig van Beethoven's Symphony No. 6, fifth movement, "Shepard's Hymn," arranged by Vernon Leidig.
Then there will be a side-by-side performance for which the strings of both ensembles will fill the stage to perform John Corigliano's "Voyage for String Orchestra."
The Cal Poly Symphony will perform Valerie Coleman's "Umoja." According to Coleman, "'Umoja,' the Swahili word for unity and the first principle of the African diaspora holiday Kwanzaa, was first composed as a simple song for women's choir." The composer reworked it for woodwind quintet, then for full orchestra. "This version honors the simple melody that ever was but is now a full exploration into the meaning of freedom and unity. Now more than ever, Umoja has to ring as a strong and beautiful anthem for the world we live in today."
The concert will conclude with the Cal Poly Symphony's performance of Antonín Dvořák's lyrical Symphony No. 8.
The HMASO will be conducted by Nicholas Walters and Zander Smith, and Music Professor David Arrivée will conduct the rest of the program.
The event is sponsored by Cal Poly's Music Department, College of Liberal Arts and Instructionally Related Activities program.
Related Events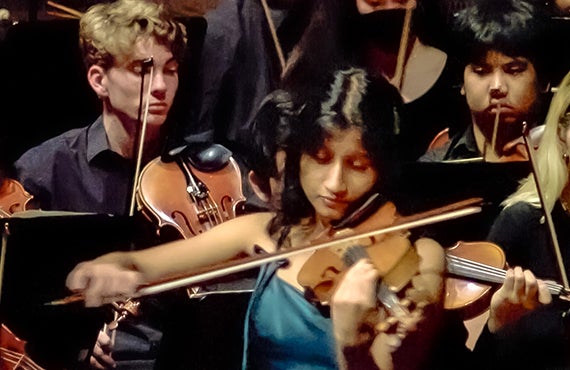 Mar 9 / 2024
Student Soloist Showcase