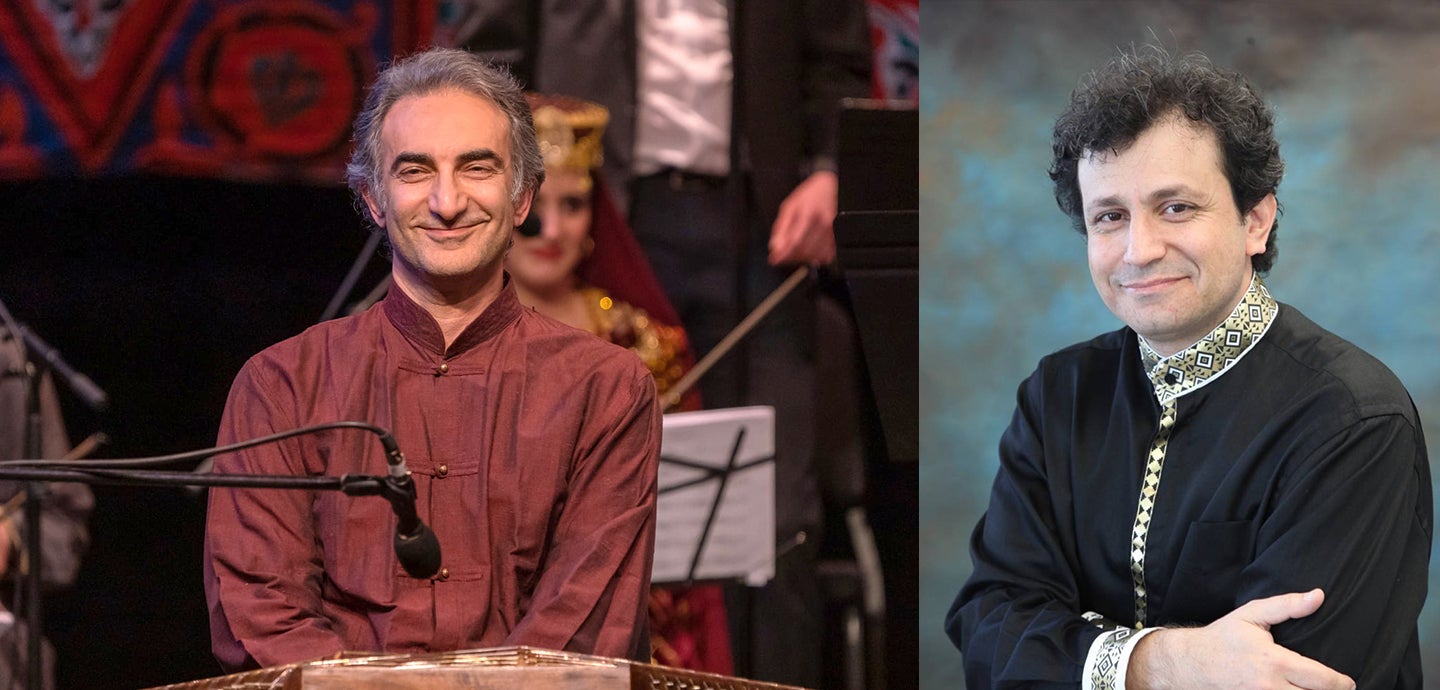 Cal Poly Symphony Spring Concert
Scheherazade and Osqueezadeh
Date

June

3

, 2023

Event Starts

7:30 PM

Location

Harold Miossi Hall

Doors Open

1 hour prior
For their season finale, the Cal Poly Symphony presents an orchestral masterpiece inspired by Persian culture alongside vibrant new compositions that blend Persian and Western European traditions.
The first half of the program will feature works by Bahram Osqueezadeh, a multi-instrumentalist, scholar and composer. Osqueezadeh will perform his "Concerto for Santur and Orchestra" and guest vocalist Alireza Shahmohammadi will sing Osqueezadeh's "Rational Insanity."

Osqueezadeh was the co-founder and director of the Drvak Institute of Music in Iran, as well as co-founder of the Drvak Ensemble. As a soloist, composer and conductor, he has appeared on many radio and television programs in Iran and has toured the country, performing his original compositions. He received the Gold Award at the Eighth Nationwide Fajr Music Festival and now serves on the faculty at UC Santa Barbara.
Shahmohammadi is recognized as one of today's renowned singers in Iran and a master of Persian classical music repertoires. He began his musical studies at the age of eight under the direction of his father and continued his studies with great masters such as Hatam Asgari Farahani, Mohammad-Reza Shajarian and Mohammad-Reza Lotfi. He recently presented a concert with the legendary Indian musician Pandit Swapan Chaudhure at Z Space in San Francisco. He has 15 published albums. "Majnoon," his most recent, is a collaboration with Theodore Bikel and the Lian Ensemble.
After intermission, the orchestra will present Russian composer Rimsky-Korsakov's "Scheherazade," an orchestral tour de force based on "One Thousand and One Nights." In this collection of Middle Eastern folk tales, and in the music, Scheherazade avoids death by entertaining her husband with tales of adventure and romance. Throughout, Rimsky-Korsakov evokes these tales with dazzling orchestral color and lyricism.