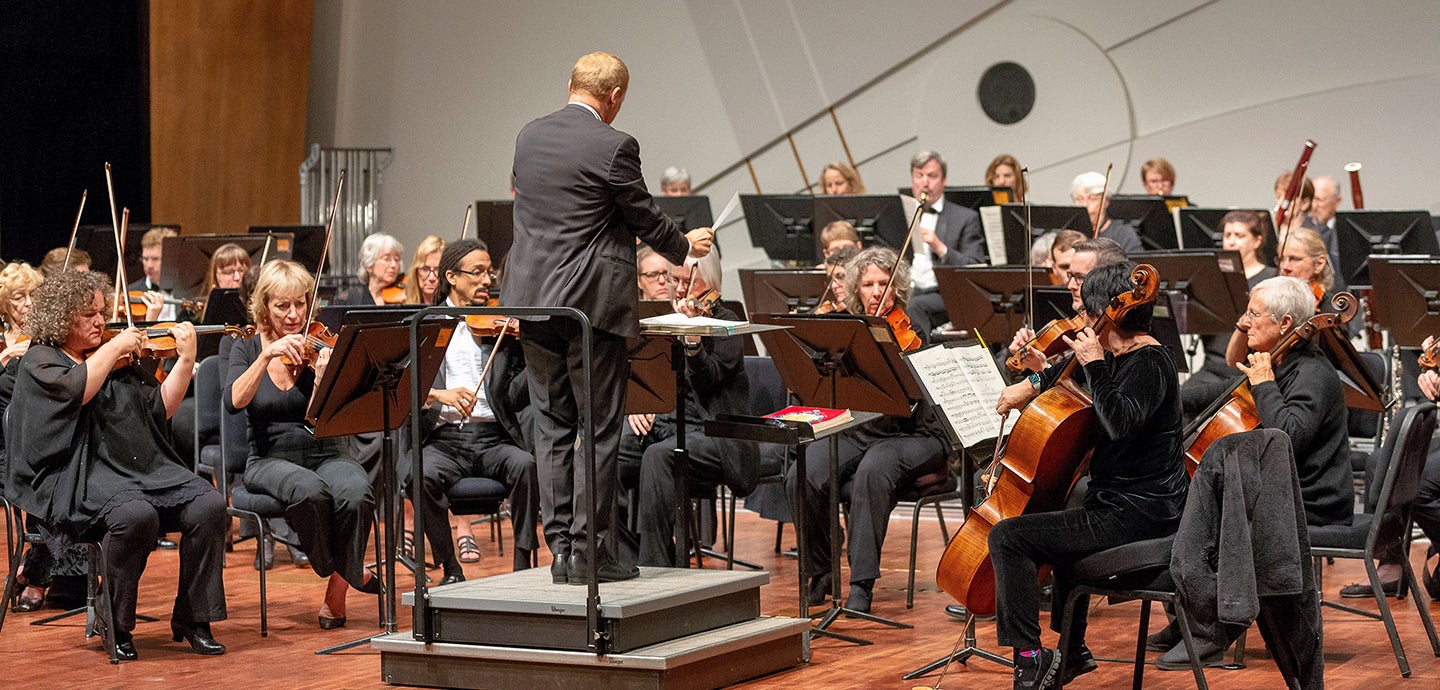 SLO Symphony: Tchaikovsky & Testimony
Date

May

6

, 2023

Event Starts

7:30 PM

Location

Harold Miossi Hall

Doors Open

1 hour and 15 minutes prior
The season concludes with Hindemith's masterpiece for orchestra, Symphonic Metamorphosis on Themes of Carl Maria von Weber, and Tchaikovsky's Symphony No. 4, a tour de force for brass.
Commissioned and premiered in 2022 by Andrew Sewell and the Wisconsin Chamber Orchestra, William Banfield's "Testimony of Tone, Tune and Time" reflects on the life and testament of abolitionist and civil rights activist Frederick Douglass. Receiving its west coast premiere, the work will feature saxophonist Anthony Yi, along with two guest narrators.
Narrators will be Keenon Hooks, resident artist and professor of directing and choreography at PCPA in Santa Maria, and Ms. Amber Machamer, Executive Director Institutional Effectiveness and Educational Services at San José - Evergreen Community College District. Amber Machamer and sister, artist and educator Leah Mata Fragua, are members of the Yak Tityu Tityu Yak Tiłhini (Northern Chumash) tribe located on the Central Coast. For Amber's performance, Leah has created a traditional tribal dress with contemporary accents.
The Diversity Coalition of SLO will be partnering with the Symphony for this event and will have a table set up in the lobby.
HINDEMITH – Symphonic Metamorphosis of Themes by Carl Maria von Weber
BANFIELD – Testimony of Tone, Tune, and Time (West Coast Premiere)
TCHAIKOVSKY – Symphony No. 4 in F minor

Andrew Sewell, conductor
Anthony Yi, saxophone
Sponsored by Martha Michalojko Kettelkamp and Richard Andrews
Symphonic Forays Pre-Show Talk
Be sure to arrive early for Symphonic Forays, an intimate discussion with Music Director Andrew Sewell and special guests that precedes each concert. Learn more about the evening's musical selection, composers, and soloists in an up-close-and-personal conversation. Symphonic Forays begins at 6:30 pm and is FREE to all ticket holders! Seating is general admission.
2 Acts: 50 min each
20 min intermission
Related Events